Starting from Summer 2021, Wine Xin offers the internationally recognized Italian Wine Scholar (IWS) program from the Wine Scholar Guild!
The Italian Wine Scholar™ education program is the most advanced, comprehensive, and up-to-date Italian wine course available. The syllabus takes a regional approach and discusses all Italian wine appellations and the factors that shape their identities. Created by native Italian, Maurizio Broggi, (Wine Scholar Guild Education Director for Italy) with the support of the Italian wine DOC/G consortia, this specialization program is designed for all advanced students of wine, whether wine professionals or serious wine enthusiasts.
The Italian Trade Commission (ITA) endorsed the program in recognition of its exceptional level of depth, accuracy, detail, and academic rigor.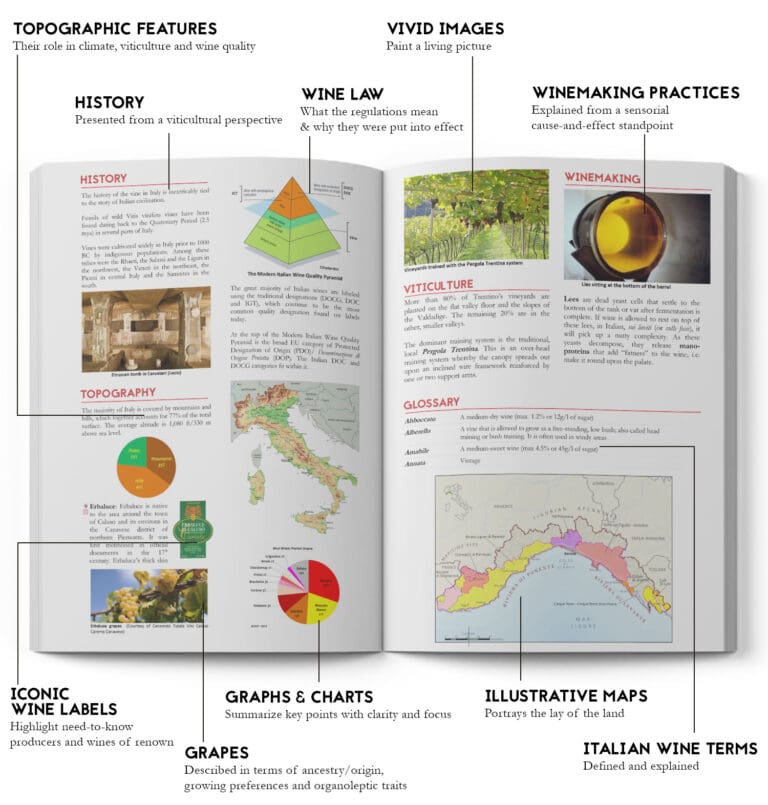 FOR PROFESSIONALS AND EXPERIENCED WINE LOVERS

Those who follow the in-depth curriculum and achieve a final passing score will earn the title of Italian Wine Scholar (IWS). Following this achievement, students are encouraged to use the post-nominal IWS as part of their professional signatures. This IWS certification provides a validation of your Italian wine expertise and enhances your resume; it also serves as a point of distinction within the wine trade.
The Italian Wine Scholar program is composed of two separate units:
Unit 1: Northern Italy

Unit 2: Central & Southern Italy
The exam for each unit is composed of 100 multiple-choice questions. Candidates need a composite score of 75% to receive the credential, i.e. the scores from both exams are added together and averaged for final assessment. Students with a composite score of 85-90 pass with HONORS. Candidates scoring 91-100 pass with HIGHEST HONORS.
The Italian Wine Scholar program is a great resource and supplement for students of wine moving toward advanced general wine study programs such as WSET Diploma (level 4), Master of Wine, Court of Master Sommeliers' Advanced Sommelier (level 3 and up) or Society of Wine Educator's Certified Wine Educator (CWE).
Many of these programs ask their students to do extensive independent research in order to study for their exam. To this end, the Italian Wine Scholar program serves as an advanced and comprehensive study supplement to help them master the complex wines of Italy.
More details on the next intake of the Italian Wine Scholar Program available here.
FOR THE ITALIAN WINE LOVERS
For consumers who love Italian wines but uncertain if they can commit to a full course, they can choose to begin their learning journey with the Italian Wine Scholar Prep course (IWS Prep). IWS Prep is designed to address the needs of the inquisitive wine enthusiast and aspiring wine professional alike. IWS Prep remains accessible but is content-rich and full of cultural highlights that are as engaging as they are entertaining.
The course provides an introduction to Italy, explores its key wine regions and delivers core information on 39 of the country's need-to-know wines. IWS Prep is your passport to understanding Italian wine. It also acts as a stepping-stone to the internationally acclaimed Italian Wine Scholar certification program.
The coursebook and instructors alike will guide you on a wine-focused journey through Italy, learning about legendary wines, foods, landmarks and cultural attractions as you "travel." The program has been divided into three sections, each featuring a geographical area of Italy: the wines of Northern Italy, the wines of Central Italy and the wines of Southern Italy.
The exam is comprised of 50 multiple-choice questions. Students will sit the exam at their local wine school, passing score is 60%. Upon completion of the course you will be ideally positioned to continue your learning with the esteemed Italian Wine Scholar (IWS) certification program!
More details on the next intake of the Italian Wine Scholar Prep Program available here.
© 2022 Wine Xin. All rights reserved.