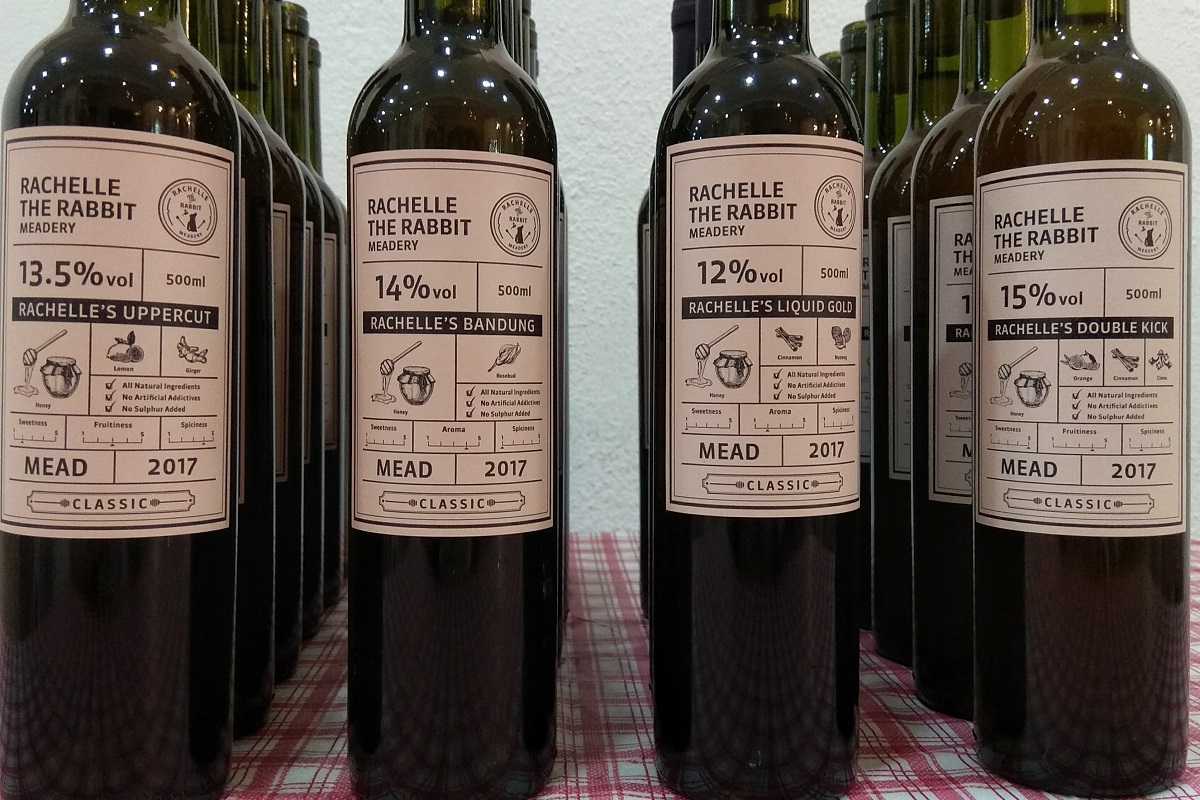 It has been awhile since I penned something, so it is fair to write on my primary activity of last year in this brand new year. However, I will state my disclaimer here as this post is a self-serving one. Last summer, Simon, whom I know since university, invited me to his place to try out his home-brewed mead samples. Some were simple quaff, and others were delicious. The tasting session then turned into his blunt confession of going into alcohol making business, which he did. In Singapore, seriously?

It is possible to make wines and mead in Singapore, but three crucial questions need answers. First, does one have a suitable place? Second, how to get appropriate ingredients? Third, who are the regulators involved?
Location, location, location?
Land-scarcity affects both rental cost and availability. At the point of sourcing, Simon had only the options of Admiralty and Tuas. He settled for the Tuas option, a factory designed for food-processing businesses where existing tenants include several big brands' central kitchens. The process of finding a location seems rudimentary. Still, there are many things to consider. For instance, washing area, potable water, and most importantly, are there any neighbours dealing with heavy machinery or chemical next door.
How is mead different from wine?
Wine comes from fruit juice; mead comes from honey. Since our local agriculture industry is next to non-existent, so we need to import everything. Grape juice oxidises readily during importation and prone to damage by temperature fluctuation. Costly temperature-controlled containers are necessary, and even so, there is no guarantee the must or fruits will remain fresh in our tropical climate.
In simple term, it is difficult to handle wines, but even more difficult with grape juice
Presently, Simon sources honey from Brazil that has less than 20 percent moisture, with most of the remaining being fermentable sugar. The high sugar content acts as a stabiliser; high enough to prevent naturally present microbes from spoiling it. Furthermore, honey does not oxidise as quickly as grape juice does.
During fermentation, adding water will rehydrate and lower the sugar content to a level suitable to start yeast activity. Which means, making a 100-litre mead will not require 100-litre of raw ingredient, and consequently reduced shipping cost and still achieve a high quantity production.
But, is there honey from neighbouring countries? There are several honey-producers in the region, and we even have beekeepers in Singapore. However, as a startup that needs commercial success, it is necessary to import from a supplier that can provide a substantial quantity of consistent quality. Secondly, the taste profile is tried and proven to be suitable for the recipes he has in mind. Given that honey production is dependent on many factors including weather changes, bees, urbanisation of space, Simon has to seek other sources to ensure a reliable supply in the future.
Regulators
Most people are aware there is some form of alcohol tax imposed by the government, a topic that I have written before. In Singapore, businesses involved in dutiable goods (e.g. tobacco, alcohol, petrol) can apply to the Excise Factory Scheme. Under this scheme, the licensee will enjoy tax-free status until the products are ready for market. However, the license to produce liquor will cost the business S$28,000 annually. This fee is a stark contrast to the craft-beer industry where microbreweries pay S$8,400 a year. The alcohol excise tax and Goods and Services Tax remain payable when the product is bottled and ready for delivery.
Beside Customs, there are also other agencies like the Agri-Food & Veterinary Authority of Singapore (AVA) which issues the food-processing license. Fortunately, both bureaus are very helpful to businesses and often advise the necessary documents needed to meet the legislative requirements.
My part in this
As I mentioned in the article opening, this is a self-serving post, because I am partly in the business. Providing second opinions on packaging, tasting on what are possible flavours for the market, linking up with potential business contacts, and co-hosting tasting sessions.
In fact, I think every tasting session we host at Rachelle The Rabbit Meadery is like the Mad Tea-Party. Simon is the Mad Hatter, and I must be the March Hare. We are both mad.