One can tell Mid-autumn Festival (or Moon Cake Festival) is coming when you start seeing round pastry showing up on confectionery display shelves. Being one of the four important Chinese festivals, families celebrate over delectable moon cakes while children go around with brightly lit lanterns, and others make religious offering to the moon goddess. Not forgetting the full moon is, well, seemingly brighter than usual.
This festival is marked on the lunar calendar as 15th day of the eighth lunar month, which usually falls around September or October. In historical times, rites were performed to celebrate harvest and giving thanks to the supernatural and divine powers. In 14th century, the Yuan dynasty was overthrown on the same night with the clever use of transmitting revolution message via moon cakes. Today, we eat.
Traditional moon cakes are usually baked brown with lotus paste stuffing, making it sweet. Salted egg yolk is then added as an optional item for those who prefer a salty flavour. Modern style moon cakes feature ice-skin or snow-skin using glutinous rice. Like a moon cake-mini with vibrant food-colouring and served chilled, they are like a trendy younger generation of the moon cake society.
In corporate setting, moon cakes have been used as gift for clients and business partners to build relationship. The previous firm I worked in launched a series of legal actions for a consignment of poorly made moon cakes, and that shows how important moon cakes can be! Therefore the branding, ingredients used, quality and perceived values of the moon cakes have become an evaluation of 'sincerity'.
Hotel restaurants are usually in the frontier of moon cake experiment. Ginseng, bird nest, abalones, shark fins (not so common today), Chinese herbs and others exotic ingredients have been in the limelight over the years. I shall reserve my comments on how they tasted with moon cakes.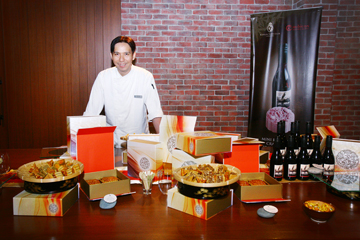 This year Raffles Town Club partners with Rubicon Reserve Wine in exploring the making of wine-infused moon cakes. The results are two moon cakes made with Rockpool Pinot Noir and Astrolabe Sauvignon Blanc. The Pinot Noir moon cake, with its pinkish light purple tone, brings nostalgic memory of fruity bubble gums. Sweetness carried by a slight sour cranberry tartness. When paired with the Pinot Noir, the taste was an uplifting compliment. The Sauvignon Blanc-style moon cake stands on the other end of the taste spectrum. Bearing a tropical taste, fortunately it doesn't make one feels sick of eating too much sweet stuff. While this may not be a direct crowd pleaser, it come across as a good supporting actor on a plate of assorted flavours.
One can only imagine how other flavours will fare in the market. Imagine having a Riesling infused moon cake that is both acidic and stony, an intensely rich Rhone blend that deliver layers of complexity, aged Cabernet Sauvignon or high alcohol Zinfandel.
Apart from the stylish-funky new kids, they have other moon cakes in traditional-style , with unique sweet potato filling, herbal eight-treasures flavour or Jinhua ham (the Chinese cured ham). The moon cakes are available for online order from now till 23rd September via Raffles Town Club, all order inquires can be directed to Mr Maran Gopal at maran.gopal@rtc.com.sg.
---
Updates: I noticed search engine traffic have come to this page on wine and moon cake pairing, so I guess it is right to list some style pairing I have in mind.
1. Traditional lotus paste moon cake without yolk – If you like the baked crispy skin of the moon cake without additional salted flavours. Try pairing a Pinot Noir with a pleasant balance of red berries, smokiness, savoury and light acidity. I will go for a De Bortoli Pinot Noir.
2. Traditional lotus paste moon cake with nuts – Look for a Oloroso sherry, or ideally a Cream Sherry which is the sweeten version. This oxidised fortified wine have a distinct nuttiness to it.
3. Traditional lotus paste moon cake with yolk – This is challenging since salted yolks are a tad too powerful for most wines, and I might get a off-dry sparkling for this.
4. Modern snow-skin moon cake – What I have on mind? The Noble Mud Pie by d'Arenberg!
(Calories burning activities after this.)
The above are based on my personal preference, let me know what you like @ this.is@winexin.sg