It felt like only a few months ago when I wrote about pairing wines with moon cakes. With the passing of seasons and we are into mid autumn festival again. This year I tried a few sweet Australia whites against several moon cakes, both  traditional and modern. Alas I am the kind who grew up eating the oven baked, brown and chunky traditional-style moon cake and this is my take.
The typical ingredients for traditional moon cake found in Singapore involve lotus paste, flour for the crust, and optional use of salted egg yolks. Another style of traditional moon cake uses five different kinds of kernel with Jin Hua ham for the savoury touch. In either form, the moon cake gives a long-lasting sweet taste with a savoury feel depending on add-ons. The latter usually comes with crunchy texture with the use of coarsely prepared kernels.
Pairing wines with such a taste profile can be tricky. In one case where we paired moon cake with Sorby Adams Jelicoe Amelia Riesling 2010, the wine's weighty body was enough to match the texture of the cake but the finish could not out-last the stamina of lotus paste. In less than a fraction of a minute, the wine was forgettable.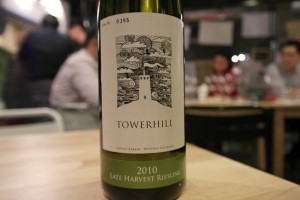 Fortunately we also tasted the Towerhill Estate late harvest Riesling 2010. This wine hailed from Mount Barker in the Great Southern region of Western Australia. On its own, it was easy to tell there was a good amount of residual sugar by a medium sweet sensation. Pitting it against the traditional lotus paste moon cake and this wine prevailed with its long, fresh and acidic finish. Unexpectedly, it was capable to liven up the palate and tamed the rampant sweetness.
While the sweetness were fighting to dominate our taste buds, the wine brought about a touch of mineral and stone fruits to the mid palate. The same wine paired with five-kernel moon cake demonstrated a supportive purpose. Instead of subduing the moon cake, the wine led the spicy aroma out of seclusion and showed it through as an extra touch of complexity.
I don't have a sweet tooth, so this was an unusual setting where I enjoyed two sweeties in one sitting. My guiding principle for food and wine pairing is very simple. If you can't beat them, join them. So what's yours?