Many wine study guides will caution against pairing red wines with spicy food. So when the invitation comes saying Peranakan cuisine with Amarone, it raises both eyebrows. Will this be a disaster where one, or even both, goes down in spicy flame? Or an experiment that might just invalidate what we are taught? Together with The Italian Wine List and Tok Panjang Peranakan cafe, I went to find out.

The Peranakans are descendants of Chinese immigrants who settled down in Southeast Asia between 15th and 17th century. Marrying the residents from the local Malaya and Indonesian communities, their cross-culture adaptation developed its own features that are still very prevalent today. Ranging from colourful kebaya to flavourful dishes, the Peranakan cultural heritage along with the terms Baba and Nyonya are an important aspect of Singapore and Malaysia societies. And for those who wander the streets of Katong, the colourful shophouses are constant reminders of their cultural presence.
Tok Panjang Peranakan Cafe at Dorsett Residence is one of the outlets by the House of Peranakan group. The restaurant group founded its first establishment in Katong during the 1980s and has since expanded to East Coast, Siglap, Tiong Bahru, and Outram. As a non-Peranakan, nor an expert in their culture, the interior of Tok Panjang Peranakan Cafe is as Peranakan as I could imagine. Turquoise wall, flowery prints, antique furniture, and a large picture of founder's mum overlooking the entrance. If I was led there blind-folded, I might have thought it was the casting location of the Mediacorp production Little Nyonya. What more can I ask for?
Glera and Garganega
The dinner itself was a rhapsody. As dishes served and wines poured, the experience of the Venetian drink and a Southeast Asian food became a movement with highs and lows. The two white wines for dinner were Sartori Prosecco Brut "Erfo" and Sartori Bianco Veronese "Marani" 2015. Both grapes, Glera and Garganega, are classic varieties of Veneto. Glera is a lightly aromatic variety with aromas of white flowers, white peaches, light fruit flavours and fresh acidity. Paired with a medley of Kueh Pie Tee, Peranakan style meat rolls, and fish paste Otah, the wine was able to refresh the palate while allowing the food flavours to linger on.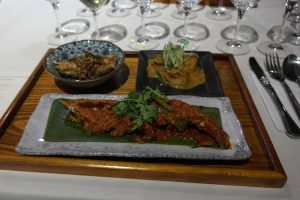 The "Marani" made solely from partially air-dried Garganega grape is a rounder, and weightier style compared to Soave (another wine using the same grape). From my experience, "Marani" often exhibits tropical fruits notes, almost honey-like, but with an underlying zesty acidity that complements the weight. But this bottle for the dinner was different. It was cautious, almost introverted, not to show its best. And finally, it took a dash of spicy Nonya Crayfish and creamy Scallop Lemak to let it loosen up and party along.
The Valpolicella reds
Red wine pairing, however, was an exercise to push limits. The dish with Valpolicella Classico was Spontaneous Combustion. An ominous name but the dish tasted benign, tender spare ribs in rich Sioh gravy with Nasi Ulam (mixed herb rice). Creamy and savouries of the tender ribs morphed the usually red cherries dominant Valpolicella Classico into dark cherries note, with an almost-sweet taste. The rice carried a tinge of spiciness, but nothing too strong to make the pairing awry.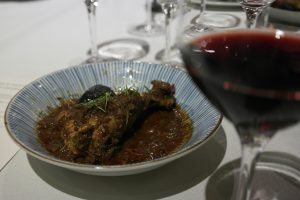 Still, there is always a limit on how far a man can go, and for me, the line is here. A Valpolicella Superiore Ripasso "Regolo" with chicken cooked with Buah Keluak. The chilli spiciness brought a tangy sensation to the wine, which by itself has a dark fruit core. Brooding, dense, powerful, but also beautifully balanced. The titans clashed, but none came out better or worse. For the whole is greater than the sum of its parts. Certainly the most delightful pairing of the evening.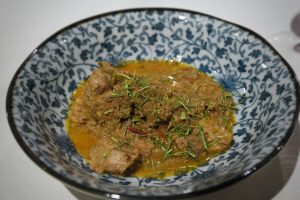 And at the very last meat dish, a braised Beef Rendang with Sartori Amarone della Valpolicella "Corte Bra" 2009. The beef was robustly flavoured, powerful spiciness, and the wine equally ambitious. Despite putting on an elegant veil, it wasn't difficult to detect the plum, dried red fruits and herbal spices, the whole packaged carried by a delicious taste and rich texture. But I can agree no further. The dish was too spicy for me, and things got difficult. But for those who can endure the heat, I believe the wine would have reward generously.
So, Peranakan food with wine?
For me, the often recommended rule of not pairing red wines with spicy food, or simply go for a sweet wine, is myopic. Perhaps, not thinking how well the flavours match, we should first measure how much spiciness can we take. For an overwhelmed sensation can take little of anything else. This experiment at Tok Panjang Peranakan Cafe is encouraging and should be repeated to decide how well other wines of the world can take to our diverse and complex food culture.